Fit at 58 - Interview with Linda
Linda puts me to shame. At 58 years old, she's not only commuting to work by bicycle, but also weight-lifting with her husband (she can squat 155 pounds) and running 10k, even though she describes herself as "not a runner". She shows no signs of slowing down, and with a mother who's still cycling at age 79, why should she?
Read on for the full interview...
Where do you live and ride?
I live in West Kelowna, BC, Canada. My cycling season is late April to the end of September. I don't do winter riding, although I have seen more people lately who are dressed for the cold and/or riding on fat tires.
What role does your bicycle play in your life?
I completely love commuting to work on my bike. When I drive, I miss cycling. When the weather is raining or windy and I choose to drive, instead of bike, I kick myself for not having just a little more grit.
I did cycle every day of my first pregnancy, to and from work, including the day I went into labour. I was two weeks overdue and was trying to speed things up.
What's your love story with bicycles?
My siblings and I all cycled to school beginning in first grade (there was no kindergarten way back then). We lived a mile from school, and cycling was a natural activity for us. I remember on weekends telling Mom, "I'm going for a spin around the block". The block was a 3-mile round trip.
What kind of bike do you ride?
My 1984 Cannondale was a birthday gift from my husband. I named her Stella, and she was top-of-the-line technology at the time. I was thrilled.
I rode that bike for 33 years, complete with fenders, rear carrier, saddlebags (red), pedal cages, and shifters on the downtube. I also rode a mountain bike, named Laverne, with a trailer I used to haul my dog to and from work.
For Christmas, in 2016, I received a 2014 Cannondale! It is very lightweight, has shifters at my fingertips, and shoes that clip to the pedals. I named her "Second Wind".
What's one thing that could improve your experience?
The first item that improved my cycling experience was getting my new Cannondale bike in 2016. I had to wait until late April to ride and…. That first ride was 10 minutes faster than my best ride on my old bike.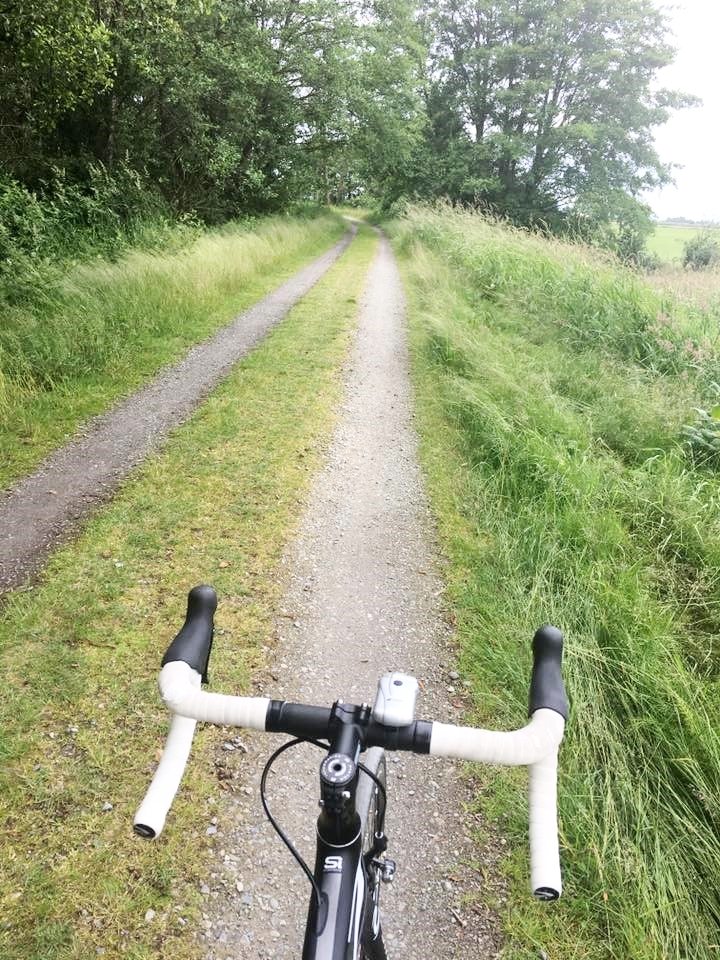 "For Christmas, in 2016, I received a Cannondale! I named her 'Second Wind.'"
When have you experienced fear while riding your bicycle?
The first time I felt scared was on my first solo bike tour. The plan was to drive to Langley, BC, and cycle from there to Vancouver Island (Victoria), and then up to a friend's place at Courtenay. I remember the excitement and fear I had when I stepped off the ferry onto the island. When I got to Victoria, the 3 people I was supposed to contact when I got there were not available. No answers.
I didn't know where I was going to stay or what I was going to do. I was very close to the local hospital, and so I went inside, found a washroom, and had a mini meltdown.
That done, I headed to a campground on the outskirts of the city. As I was setting up, a camper nearby invited me to share her dinner. She had just come from across the country and was wanting company. What a lovely evening.
After that one meltdown, I never did have another: I became flexible with change.
How many bike tours have you done?
I've toured 3 times, once after each relationship ending. I never did cycle touring with any partner. A solo tour was a way to heal.
For my second tour, I cycled from Kelowna to my daughter's place in Richmond, BC. It was a 3-day trip. On the second day I had to pedal from Princeton to Hope, over a huge mountain pass. I was told by a trucker friend that I should ride the whole distance in one day and not do any stealth camping, as there were quite a few bears around. So I did. There was one very, very long uphill grind. I sang. I made up lyrics. I recited poetry.
"I never did cycle touring with any partner. A solo tour was a way to heal."
The last day of cycling I got a flat tire, on the rear. I had to take off the saddlebags, etc, and try to fix it. Luckily I was near a campground, and I enlisted the help of some strong hands.
When I reached my daughter's place I wanted to take a bath, but she had no plug for her tub. So…. we walked to the hardware store, a mile or two each way. My legs were so stiff and sore, I just had to laugh.
What's the farthest distance you've ridden?
The third bike tour, in 2007, was by far the best. I planned 10 days to ride over 1100km from Kelowna, BC to the bottom tip of Idaho, in order to to volunteer at one final international endurance horse ride.
At one point I did say to myself, "Why am I doing this alone?"
I rode between 100-125 km each day, but one day I did 92 miles (147 km). I never did ride a 100-mile century, though I completed lots of "metric centuries" (100 km).
There were many miles of long, straight, empty road. At one point I did say to myself, outloud, "Why am I doing this alone?" But the long, straight, lonely roads are something that stuck with me. When I see pictures on other cycling blogs of roads leading into the distance, I want to be there.
What kinds of weather did you encounter on tour?
I struggled with headwinds that slowed me down to 3 or 4 km per hour. At one point the winds were so strong that I was forced to cycle down every inch of what would have been a lovely hill.
I rode in so much rain that when I stood shivering inside a motel registration room, I dripped a puddle on the floor. I probably had a cup of water in each sock/shoe after being a puddle-pusher all day. The motel owner offered to wash and dry my clothes which was awesome. I apologized for the wet mess I made.
Did you ever stealth camp?
I did stealth camp once. I wasn't afraid of doing it, but I did find, since this was a holiday after all, that the comfort of a motel and bath allowed me to feel ready again the next day.
Do you always cycle alone?
I took my son on a little trip when he was 16. He wasn't as ready as he thought he was, so we shortened the distance and made his two-day trip manageable. I would want a partner to do the same for me: to look out for me as much as I look out for him.
My husband refuses to do road riding. He likes totally off-road, easy, trail kind of riding, like old logging roads or rail trail. It's all good, too: My greatest pleasure is in riding side by side. I am hoping to do more of his kind of riding together when we retire.
What's one of your favorite cycling/travel memories?
This memory involves my horse, my boyfriend (now husband) and one bike. I had my horse stabled temporarily 70+ miles south of where we lived and was bringing her to a location nearer home. I had no trailer, but I believed I could ride her the distance if I had help along the way.
I was able to plan the route to involve no highway travel… it was all trail, or residential roads. My boyfriend and I took turns riding either the horse or the bike. It took us 11 hours with food and water stops along the way. I admit I did more of the horseback riding, but because we had the bike along it was an amazing adventure to share.
Men far outnumber women when it comes to bicycle riders in the United States. This isn't true in other countries. Why do you think there are fewer women riding bicycles here?
I have been to both Amsterdam and Germany when I was part of Team Canada for Endurance Riding. I didn't ride in the race, but was part of the team helping the chosen few.
In Europe there are a million bike trails. Bikes only, no vehicles. That was amazing. There was less focus on the type of bike or riding gear and more focus on just riding. I saw girls in skirts and heels cycling! I saw cool bikes with front baskets or rear trailers… all kinds of setups to haul kids and groceries to and fro. The communities were also close together. No long distances between destinations.
We rented bikes for the two weeks we spent there. It was amazing. I fell in love with cycling in Europe.
Tell us about aging and cycling.
One is not too old to cycle. My mom, at age 79, is still cycling. When I turned 55 I was so happy to join her in competing in cycling at the 55+ Senior Games. There are very few parent/child athletes competing together. Senior athletes are amazing.
"My mom, at age 79, is still cycling"
Have you ever been sexually harassed while riding a bike?
Yes, every year there is something. Whistling, catcalling, yelling, swearing. It doesn't happen often, though. I think those same people would make the same harassment to pedestrians.
Also, on my first bicycle tour I was riding through a city where a huge motorcycle rally was taking place. One motorcyclist was looking at me for too long as he passed, and he crashed into the median, halting traffic. He was embarrassed. No damage to him, but his motorcycle needed some repairs.
What advice would you offer to a woman who wants to bike more, but is afraid to do so?
Do it once, and it will feel different the next time. Every time gets easier. Ride in areas where there are lots of people… parks, trails, and then tackle longer distances or day trips. Ride with friends.
Learn to fix a flat. There is a trick to it. I asked at a bike shop if I could watch the process, and I learned what I wasn't doing right. It doesn't scare me now.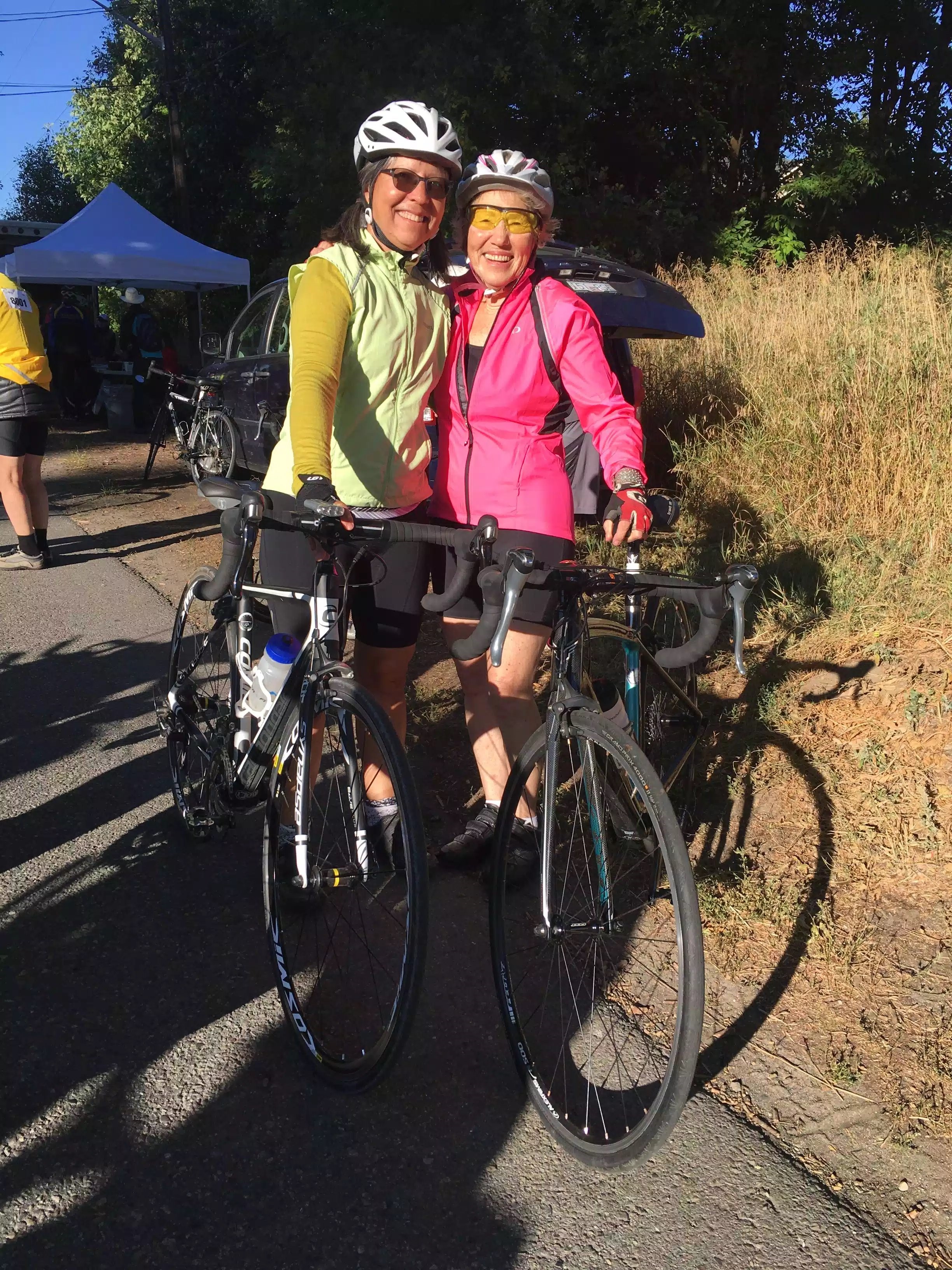 "Every time it gets easier... Ride with friends."
What activity, besides cycling, helps you be a better cyclist?
I lift weights with my husband. 155-pound squats, 100-pound bench presses, plus all the smaller muscle groups. I also run with my husband. I am not a runner, and 5 years ago I could only run for 30 seconds before needing a rest. My lack of running stamina surprised me, considering all my cycling years. It took some determination to do it. Now I can do 10k and we can run side by side. I do a 3-5 km walk or run or snowshoe at work with my dog, who comes to work with me. I am lucky that I am very close to bush trails and easy access to getting out there.
What are some things that help you feel more comfortable as a cyclist?
Visibilty is key. When I got my new bike, I also received a light for the front and the back. I don't know why I never used lights before! My husband also tracks me on our cell phones (Find My Friends app), knows my routes, and ensures that I am visible when I leave in the morning darkness.
My commute to work is 28km each way and in order to arrive on time, with time to clean up and eat, I have to leave in the darkness of 5:30 a.m. Its hard to be eager and motivated at that hour.
Any exciting plans for the future?
I am going to make a bike bag to fit inside the frame of my bike, so I don't have to use a backpack. I have some sewing projects to do before I can sit down and work out the pattern, but it will have reflective elements.
Linda was born in Kelowna and lives in West Kelowna, BC. She's 58 years old, and a cycle commuter, xcountry skier, trail runner, athlete, quilter, voracious reader, gardener, weightlifter and musician.
For more interviews with female cyclists, Click Here.
Have a badass friend that I should interview? Contact Me.