"I Want to be My Own Hero" - Janine Scott
"I've always found it difficult to stay in the same place," writes Janine. She's lived in at least six different states, and bicycling has been a part of her life in each one. But her dream of pedaling across the United States, on a long-distance, self-supported bike tour, has eluded her. Something mental, emotional, or physical has always held her back. But now, at age 58, she says it's now or never. "Thousands of others travel great distances by bicycle," Janine writes. "They are my heroes. I want to be my own hero too, and all I have to do is pedal. I know how to do that."
"I fell in love with cycling when I realized that my bike didn't judge me or have any expectations of me."
Janine, tell us about your history with cycling.
A bicycle has always been a part of my life. My brother and I redesigned a Schwinn Stingray, with help from the older boys next door, multiple times. I de-tasseled corn for two dollars an hour as a young teen in order to buy my first "ten-speed." In college I used student loan money to get a mountain bike. The longest job I've ever held was in a bicycle shop. I did a handful of triathlons in Florida; my best splits were on the bike. When my car died, I spent the next twelve years commuting by bike, in Michigan, Chicago, Colorado, and Florida.
Come to think of it, the only time I didn't ride was during the combined sixteen years I was married. I won't let that happen again.
What do you love about riding a bike?
I fell in love with cycling when I realized that my bike didn't judge me or have any expectations of me. Or, maybe it was when I learned to spit and blow snot. All of that mucus that loosens up when you ride has to go somewhere, and being able to aim and hit your target is fun.
What inspires you to try bike touring?
Touring by bicycle first came to mind when I was a teenager. I didn't drive and thought it would be safer than hitchhiking. (A girlfriend and I hitched around the state of Florida when we were 15 years old.)
I've dreamt of touring since then, but my circumstances never matched up with my dreaming. I have a history of not planning, ergo; I haven't created the right circumstances.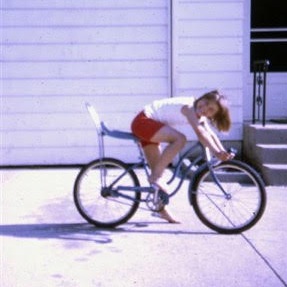 "I think my genes retain a lot of 'ancestral memories,' dating back to the time when humans were nomadic and moved with the seasons or the need for food sources."
What's been your biggest barrier to making that dream come true?
I think my genes retain a lot of what I term to be 'ancestral memories.' They date back to the time when humans were nomadic and moved with the seasons or the need for food sources. That impulse conflicts with how I was brought up; get a career, buy a home, save money to do things you want to do, etc. I've tried to do the status quo, but sooner or later I bolt for somewhere else only to find myself building that lifestyle again.
Only recently, with examples from my own daughter (bless her) and a younger generation who touts minimalism and re-imagining oneself, have I learned to turn away from that prescripted lifestyle and accept who I am. I'm hoping all of this makes some sense.
How to say this next bit so that it doesn't frighten or draw sympathy? Straight forward: I experienced depression and periodically, over the past 45 years, I've thought of killing myself. I've always balanced the tightrope between the safety of what I know (and detest) and the adventure I fantasize, but always falling back on what I know.
Now, at fifty-eight years old with arthritis and a thyroid dysfunction, I think it's now or never. If I should die doing it then my pain will end, too. If I don't die, maybe some of the pain will go away because I have experienced something wonderful.
Have you ever ridden on a bike overnight, or other long distance bike adventure?
I have done RAGBRAI twice. That is the [Des Moines] Register's Annual Great Bike Ride Across Iowa: a rolling party with fifteen thousand cyclists.
My sister invited me to do it with her. We'd grown up in Ames, Iowa, so as cyclists, it was almost obligatory. I think we averaged about 70 miles each day. A van carried our gear from town to town, and there was a lot of food to be had and beer to drink. Still, we were exposed to the elements, rain and scorching heat during the last week of July.
The people were wonderful. My best memory is from a morning after a soaking rain; everyone was wringing out their tents and sleeping bags when a man began playing "Amazing Grace" on a trumpet. Lovely.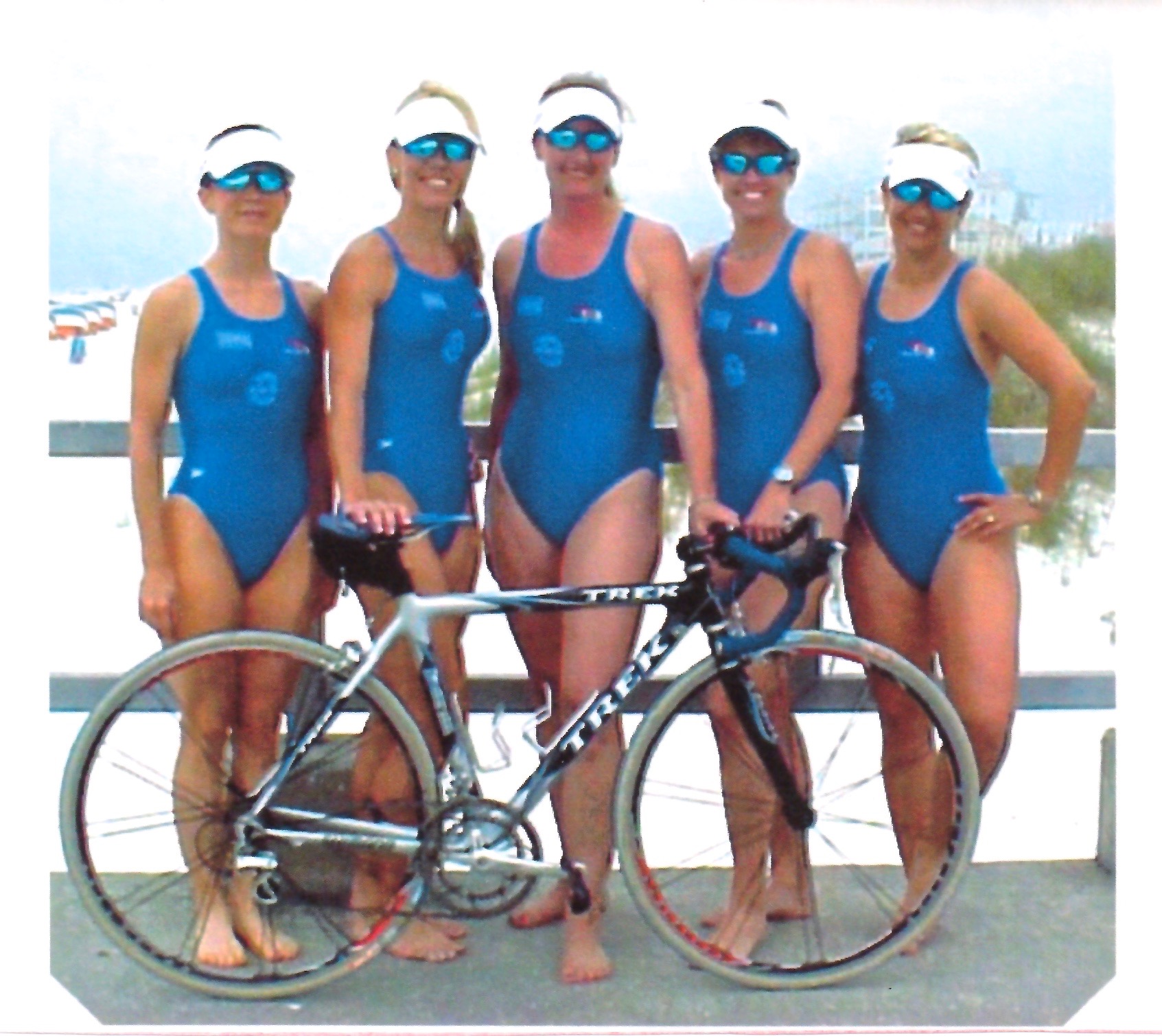 "I did a handful of triathlons in Florida; my best splits were on the bike."
What do you want to bike tour solo?
I'm more comfortable alone. I'm not unfriendly, and I would give the shirt from my back to help someone. I simply need to pedal my own pace and open my mind and heart to this big country.
Have you experienced fear on a solo adventure before?
My only longish solo outing was hiking some of the Appalachian Trail in 2005. I'd read the horror stories, but also the stories of achievement and all of the good folk you can meet along the trail. I was afraid of bears and men, but I felt the odds were with me. I had no time limits or distance goals.
I started hiking and got over the initial aches and pains, and spent two nights alone. I'd fallen asleep both nights because I was too exhausted to lie awake worrying. Then came a night with thirteen others in a shelter in the Smokies. No one tried to talk to me. The next morning a group hiking south came into camp and said a bear with two cubs had charged them. Fear number one: walking in the direction of an angry mama bear.
One of the men asked if he could hike with me. I said, "No, I want to take it easy." Along the way more men inquired as to why I was out there alone. I got to an area where there were several day-hikers because there were trails leading up from a state park campground.
At some point I noticed the man who asked to hike with me doubling back through the trees, off trail. Fear number two. I made sure he wasn't in view and dashed down the trail leading to the park.
I got a ride into Gatlinburg by two men I had spoken with earlier. So, it's not all men that I fear, or even most men. I think it's our animal instinct that detects the creepers out there. In this case I could've continued to hike and risked his coming up from behind me... to do what? Instead I chose to go somewhere else.
"I was afraid of bears and men, but I felt the odds were with me. I had no time limits or distance goals."
What methods did you develop to cope with your fear?
It's been fourteen years since the Appalachian Trail incident, and I just ask myself, "Who's the bigger badass?" I have a decent grasp on statistics. For example, a woman picks up a man hitch-hiking. He asks, "How do you know I'm not a serial killer?" she responds, "Because the probability of both of us being a serial killer is close to nil." Horrifying joke, but it laughs in the face of the boogieman.
If someone should get to me, well, I would rather die while riding my bike than cowering in front of the television at home. I do what I can to stay safe.
Do you feel safe on your bicycle, even though it's a more vulnerable form of transportation?
As a twelve-year-veteran of bicycle commuting, I've had my share of mishaps and close calls. I was "doored" from my left on a beautiful spring day in Chicago. I've also sprained a shoulder on three occasions, fractured my elbows, and crushed the little bones in the palms of my hands (Must learn to tuck and roll).
I've ridden through some nasty weather, too. While attending Michigan State University, I rode to class when it was -40 degrees. I dressed for it, but the next day they closed the university because too many students were showing up at the clinic with frostbite. And when I was living in Florida, I raced home during a lightning storm. I know, not too bright, but who wants to spend any more time at work than necessary?
On the road, a cyclist is the needle in a haystack of visual stimuli. In the end, you have to look out for your own ass and don't piss off motorists by running red lights or swerving (I love to swerve back and forth, but not where there is traffic). Their anger stems from the fear of possibly hitting us. Most people do not want to harm anyone.
"It's been fourteen years since the Appalachian Trail incident, and I just ask myself, 'Who's the bigger badass?'"
Have family/friends expressed concern for your safety about your travel plans or bicycle adventures?
Not so much. I'm the reckless one according to them. I think they are done worrying about me. My daughter is excited for me. She and her husband are truck drivers and they will try to meet up with me during my cross country ride.
Tell us about your future bike touring plans!
In late August 2019, I'm planning a ride from where I live in Michigan to a small town south of Ottawa, Canada. I have a longtime friend there. The distance is 700-800 miles and I hope to keep my route near the big lakes through Canada and New York, then crossing over the St. Lawrence to Kemptville.
Before that, in spring and summer, I will do some closer overnights to get familiar with the riding-camping routine, and to learn what gear is essential. When I hiked the Appalachian Trail I spent a couple of weeks packing and repacking to get my pack weight under 25 lbs. I still got rid of several items that I didn't use once I was out there.
If all goes well, I'd like to pedal to Florida and then west across the southern states.
We wish you the best, Janine. You can do it!
Want to show your support? Subscribe!
Click the button above to receive (free!) weekly emails about
badass women on bikes.